Last night I worked on the hallway and office from 5:30pm to 9:30pm. Did I mention I went home on my lunch break to roll out the first coat of paint on the ceilings? Ha ha ha. I just want this project finished so bad. It will bring some normalcy back to our lifes. I'm tired of looking at those walls and having dust and paint all over my feet every time I walk down them.
Last night I primed the hall walls as well. No more yellow glue walls! I also got ambitious and started painting the woodwork semi gloss white. The wood work was already painted and wasn't worth stripping. Maybe the next person will be ambitious enough to strip them.
Here is our progress: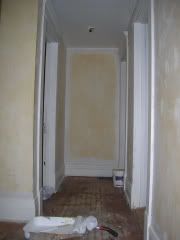 Before
After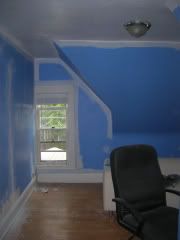 Here are the painteds ceilings in the office. Not as overwhelming as the floor to ceiling blue. We should have the hall painted by this weekend and the office should be primed.