So, this week we are not only going to be priming our hallway- which won't be too tough. We are also priming our office- which is a lovely shade of shit blue. "There is no such color as shit blue," you're thinking. Well, there sure is.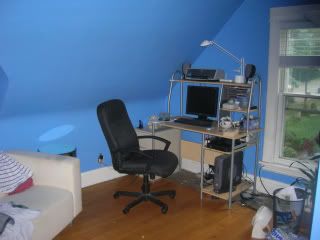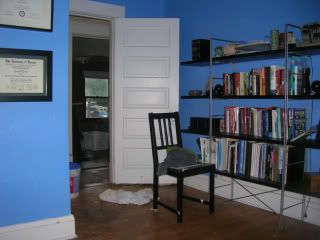 Ok, so maybe it's not that bad, it just doesn't belong on a wall. I have a feeling that this color will be bleeding through a few times, thus the priming. Not only will we be priming the walls in here, we'll also be priming the ceiling.
Maybe that's why the color is so overbearing. Don't you love that brass 1 bulb light fixture? We'll be upgrading that as well. After we prime the walls we'll have to wait until the floors are refinished to paint. This is the other room in need of some sanding and poly. It's going to look so good!
On a happier note- look what is growing out back by our A/C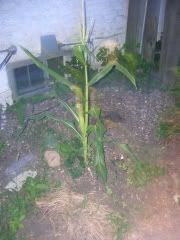 Our very own corn on de cob. Isn't it cute? When I was pulling weeds I thought I would save it. Pretty random.