Last weekend we were very productive. Maybe too productive if there is such a thing. We started our weekend off by sanding the front door and starting to sand the trim around the windows (this is on the front sun porch). I started caulking around windows to prepare for this extremely cold winter that we are being told about (can't wait!). Then, on Sunday, we decided it was time to start gutting the guest bedroom. We are redoing the hard wood floors and I just really want the major demolition to be finished before so that we aren't dragging this stuff through the house.
So here are the only before photos I could find. These are from the day we got our keys to the place: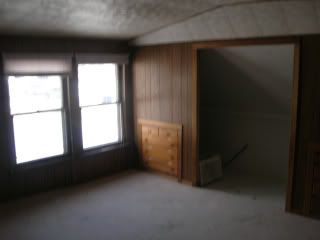 Don't you love those great built in dressers? Hahah. I think wood paneling was the cheap easy way for guys to 'refinish' a room back in the 70's.
here is another random:
All of the wood paneling and dropped ceiling along with tiles are now gone. I have to take some photos tonight when I get home and I'll post them tomorrow. The room looks soooo much better. Even gutted. Sad.
Oh yeah, I almost forgot. We also bought a new light for the office and changed out all of the ourlets so they are clean and white. Well now there is a short somewhere and half the lights are out upstairs. What a friggen mess. TG for my maintenance guy. He's going to stop by tonight.