We had our first snow in MN this week. I know, it's a little early for that. I thought it would be a great time to take some outdoor photos of the house since the first photos I have of the exterior of the house is when we first purchased it.
You're probably asking yourself, why change something that is already so gorgeous? Ha!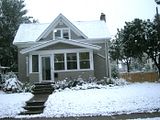 Here is the fireplace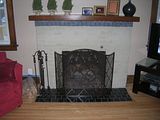 While we wait for money to finish it:
The best part of all... I finally figured out how to post photos that you can click on the links to take a better look (that's why they seem so small). FINALLY!
Tito and Roscoe napping together: