Last week I grabbed a ton of paint swatches from Home Depot and brought them home. I planned on picking out a new color for the sun porch in the entrance. After long deliberation, Deanna and Quentin urged me to pick this color.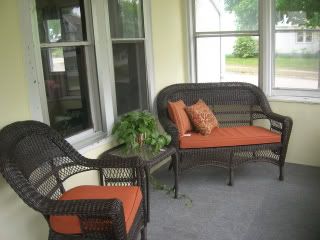 It looks like S***. I HATE this color. Now with a little sunlight I don't mind it as much
Back to the drawing board. I wanted more of a honey beige or muted, neutral yellow. On Friday I'll be painting again =(. Hopefully this is the last time.
We have completed our walls and ceiling in the stairwell. Here is the finished look.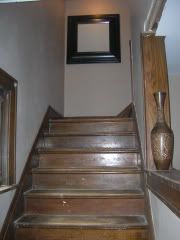 The stair sanding madness will ensue this month. I'm not looking forward to this at all. Sanding is the pits. We have to have it finished before July 4th so that we can get someone out to do the poly.
We begin planting this weekend!
Our dogs are doing good. They love to fight.