We are trying to get all of the loose ends rapped up with unfinished projects before our neighborhood progressive dinner on Saturday. So far we have completed the stain and poly on the front door and the front windows. What a difference! I can't wait until all of the wood has been refinished on the 1st floor. Once that is complete we will be refinishing the hardwood floors ourselves. I figure since it's just a sanding we should be able to do it. The upstairs needed so many repairs that it just wasn't worth our time and effort. Especially now that the dogs are becoming more and more potty trained with little to no accidents- It's just time.
Don't they look great!?!?
We are also waiting on a shipment of the glass tile we want for the fireplace, it's almost there!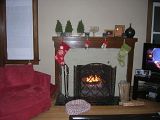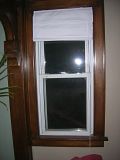 Here are the new roman shades. Forget the $150 that I spent on the dining room shades. These were only $17.00 at Lowes. I think they don't look bad at all. They were the best quality roman shades I found at any of the retailers. Although the dining room shades do look pretty sweet:
Roscoe and Tito have been getting crated during the day which has been a huge help with marking. Check out Roscoe in his jail cell.