The paint in the hall is pretty much done. Just a few touch- ups left here and there. What a long tedious project. I have to take long breaks in between painting rooms. Everything is a mess until it's finished. Here's what the hall looks like now.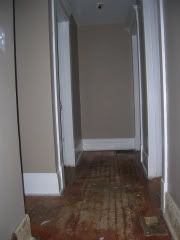 Sorry- these photos were taken at night time. It's a wee bit dark.
This is where the closet was ripped out:
The color is a continuation from the living room/ hall. I could have picked something sooo much cooler but I really have a tough time with picking colors. I think it looks pretty good. The floors are just driving me nuts now. We have these great finished walls and these ugly paint splatted, worn floors. November or early December they WILL be done. That means we start sanding the stairs next week. Yay- Can't wait (a little sarcastic).
We stripped paint off the porch windows this weekend. I've come to find that citrus stripper works so much better and faster than a heat gun. It's alot safer on or around glass as well. We'll hopefully sand that area while we work on the stairs. Who know- maybe not.