Well, it's been almost a year since I've posted something on the house. This isn't because we've stopped working on the house. We have been working plenty on the house! I have just been so busy that I haven't had time to blog. Then I thought about how muvh enjoyment I used to get from blogging on the house that I thought it's time to start this thing up again. Hopefully I still have a reader or two out there.
So our main focus at the current moment is the half bath. We are turning this huge closet off of the kitchen into a 1/2 bath. This summer we had a licensed plummer come out to run the piping. Lucky for us, he was out of a job and we got him for the low low price of $25 per hour. So he ran all new piping so that all we need to do is add the bathroom fixtures. He noticed that our main drain going into the basement floor was loose as well, so he rented a jackhammer and fixed/ secured the pipe under there as well. All of this work for the low low cost of $625. That's including materials! After all of the bad contractors, we finally found an honest one. I feel like we're the ones who made out this time. His work is flawless.
Now all we need to do is finish framing the bathroom and sheet rock, before we get our fixtures of course. For Christmas I received this awesome rug from my mom.
I absolutely love it! I picked up this little rug for the front door.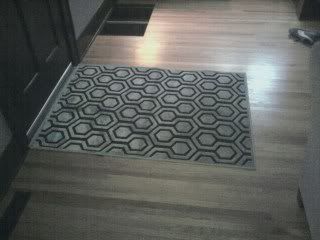 Sorry these photos were taken with my camera phone. I think I'm going to do black silk curtains in the living room to pull the black out of the rug near the door and tie the whole thing together.
That should add the drama I want in the room. Anyhow- that's it for now. I'm going to try to be more on top of my poor neglected blog.