The office paint is complete. I'm not a huge fan of the color. It's a little hard to tell from these photos, but it's a light gray with a hint of blue to it. What I really need now is some color in this room and black accents. I'm torn on what color to do in here. Maybe rust? I need to get to work with my colored pencils and play with a few different ideas.
Now I'm not complaining by an means. This color is soooo much better than the electric jean blue that used to cover the walls. The floors are next on the list to redo so I am excited about that being right around the corner! Can you imagine this color with some light natural smooth flooring. I'm excited.
We'll soon be building a new desk. I really don't even like the desk in this location, however, this is about the only spot for it. This room has all of the furniture I'm not too fond of. Eventually everything in this room is going to be replaced and upgraded.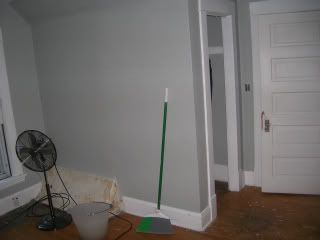 The new desk will be built over this weird hump next to the window. It's the ceiling of the stairwell beneath it. Then the room and space will be more functional. Somebody please sign me up for a room makeover show.
I'll have some photos of the upstairs hallway once we are finsihed cutting in this weekend. I'll be happy to be done with this project. Whew~!