The guest bedroom just keeps getting closer and closer to completion! Quentin framed in a new closet and ran electric. The ceiling has about 1 more coat of mud to go. What do you think of our new closet? We put in his and hers because the closet is shaped so funny that this just makes it alot more accesible.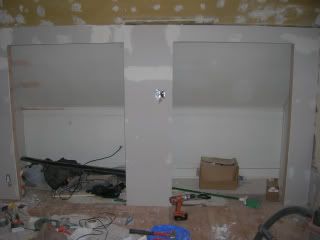 I have been using antique wood refinisher on our windows in the dining room. I spent $280 on 2 new roller shades for the dining room and I want the windows to be refinished before I install them. It wouldn't make sense to pull them back down 2 months down. So I recruited 2 friends to come over and help me last weekend. Ugh. This is how far we got:
If I ever said the refinisher was easy, I was just happy to be doing something else. It's not the easiest task and it smells horribly. I am almost halfway done so hopefully I'll just get it done quickly. I don't know how much more of it I can bare.