Overall I am pleased with the floors. The floors seem to have a yellow tint, which was sort of expected. I am happy that we went with the oil. They definitley have more depth than if they were just white maple floors with water based. I can't complain. Wait, I can complain. The contractor left some chips in my stairs that we just refinished and he also blew a fuse in the kitchen that we just can't seem to correct. Do I have any recourse? I plan on talking to him about these issues tomorrow before paying him. Other than the mess they left I am happy with the floors. So, are you ready???
Here are my refinished maple floors.
Office: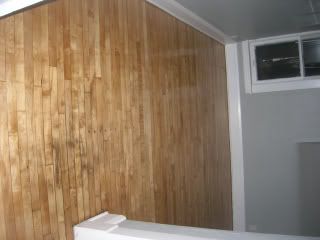 Sorry for the neck cramp. The water damage cleaned up nicely, didn't it?
Hallway: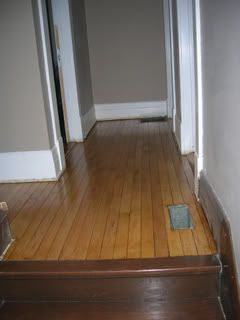 I can't wait to show you the photos with my antique bronze grate- it's going to look great! haha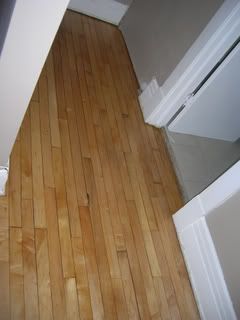 Guest room:
This has to be the best transformation. He did a great job with the patch work. I can't even tell.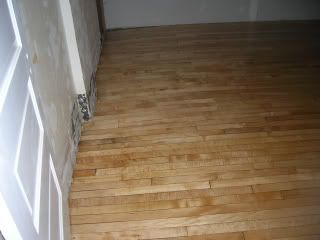 It will be nice to sleep in my own bed again. The fumes have been too strong to stay in the house. It will be great to get back to normal life. I'll just have beautiful floors now. =)