This summer has been soooo busy. I feel like last summer we had a lot of weekends at the cabin and were so busy socially. This year we have just been so busy working around our house and other people's houses. We just finished painting our friends condo for him, that took approximately 8 days of labor. We not only painted the walls- we also painted the cemement ceilings which were difficult due to piping andvents. Oy!
We are currently working on paint touch ups on our house. I have also begun spray paint, brush painting and sealing some of the unopenable accent windows with storms. Its really looking great. The windows are so clean! I love it.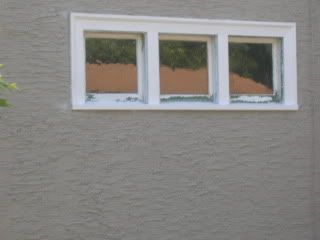 Quentin has began to replace our awful gutters himself. They aren't too expensive- just a little time consuming. Our old gutters were bent, rusted and leaky. The down spouts are missing from the pictures from the painting.
We should hopefully have the new ones up this weekend depending on our time. I'll post some photos.
We were hoping to get an Anderson Windows full view glass door for our front porch. Hopefully we'll be able to get one within the next couple of weeks. Our garage door just broke however and we are going to have to replace that pretty soon here. The frustrating thing is when you have to replace something rather than want. Good thing we are taking some side painting jobs for extra cash for the house. Another $1,200 gone.