So many things happening over the last week. We finally got a new full view glass door for the entrance to the front porch. I love it! It's just very open and really flows with all of the windows that are on the porch.
While Quentin was installing the door I found a new project to start. I bought a new screen and tools for our fireplace, since fire season is beginning already. Well our fireplace is just a bit outdated. I started my project by chipping out all of the old ugly tile that was there.
This tile was put in without spacers so in some areas the grout lines were HUGE and it others they weren't, so that whoever installed it wouldn't have to cut any tiles. Yeah.
So I went to the tile shop and found this awesome amythest glass tile. Since glass tile scratches I didn't think it was the best idea to have it as a base. Instead I chose granite with amethyst flecks in it. I think it'll look awesome from the relection with the fire.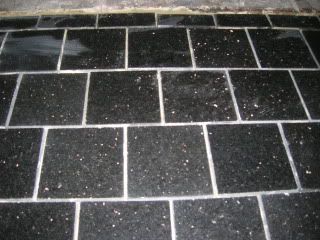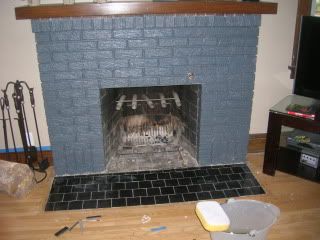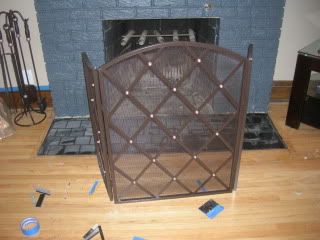 The grout is a really dark gray. The new tile looks so much better with the screen but now I'm disturbed by the upper part of the fireplace. I want glamour, I want this fireplace to be notice when people walk through the door! So Quentin and I are framing it out with more oak to set the tone and that Amethyst colored glass I loved so much will be going above. Oh yeah, and we will be painting our living room a light gray because it matchess too closely to the wall. Here is a photo of the 1st coat of thin set over the brick. Why did I even waste my time painting it???