Sorry for the delay in blogging. We just got back from vacation in New York City.
There are just a few items left to complete in the guest bedroom, mainly just closet stuff. Unfortunately closet doors are going to be a little pricey so they will have to wait a bit since our Spring projects will begin soon (HOPEFULLY!). We move our furniture into the guest room and saw that there wasn't really enough wall space. We decided that we will probably have to keep the other room as the master. Atleast now we have some closet space and a nice room for guests, right? Here is the way the room looks so far: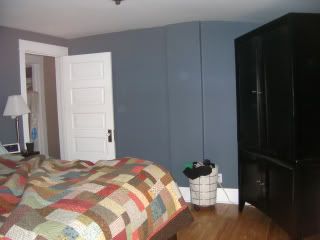 The closet still needs framing and doors:
What a difference! Our house just keeps getting better and better.
Quentin is going to continue doing all of the final finishing touches on the guest room this weekend while I begin the master room. Fortunately this room will only the ceiling scraped, the walls and trim painted and thats about it. Oh yeah- and a new ceiling fan. Everyone typically likes the paint that's in there but this is definitely not my taste.
Can't wait to begin scraping the ceiling! Hopefully this will be fast and painless. I am ready to just enjoy the interior of my house rather than see projects everywhere. The exterior is a different story! =)