I pulled down the hinges from the bedroom doors upstairs and stripped them. Stripping paint from hinges and pulls is very easy by the way. All you need to do put the hinges in a pot you don't plan on using again, fill the bottom of the pot with baking soda and simmer them for a half an hour. When you pull them out the paint just comes right off. It's not good to use stripper on metal as it is abrasive.
Ok, so onto my dilemma. The orginal hinges are copper underneath. I think they are pretty charming, however the rest of our hardware is brushed nickel. We are restoring the woodwork, in the house, but that's about it. We are updating almost everything. Do you think it would be weird if we kept the hinges copper and had silver everything else? I am thinking I may just give these guys a coat of metal spray paint.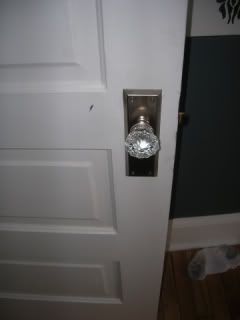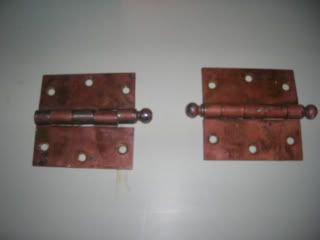 PS. Our dumpster is being delivered as I type this. Down with the ugly fence this weekend!