What a productive weekend. We finally finished mudding and sanding the guest bedroom. I primed, and painted the entire room. We ended up painting it a dark grayish blue. It looks pretty good. We also put in all new outlets and a new light fixture. What a difference! We bought new base moulding. The base moulding we chose was actually primed particle board. Of course this wouldn't be my first choice but compared to solid wood this was $1.65/ sqft vs. $5.75/ sqft. We cut them and painted them a nice semit gloss. You seriously would never know the difference by looking at it. It's solid and look really good.
Quentin installed a new window over the stairs in the basement. Someone had broken in through this window before we bought the house and ever since then we've had a board over the window. We've always had enough on our plate that it just wasn't that big of a concern. On Friday we cleaned and organized our entire basement for 4 hours. That's 8 hours of dealing with dirty basement. It looks so good! That's the spot we put our junk. All of our tools are down there and it just gets neglected. I'm happy to have it back and have more natural light and less draft in the basement.
So typically I post a bunch of pictures of the progress, but since we are almost done I want to give you the wow factor. You'll just have to wait until we get the trim up. I Got the accent chairs for the office through overstock.com. Once I got them I bought the very first rug for our house. I haven't bought more due to the other floors not being refinshed yet and our dogs having accidents here and there. What do you think of the entrance into the office?
Before new office furniture:
After: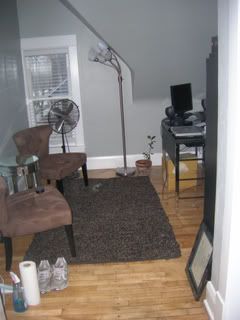 Here is a photo of our foster dog Archie. He's already lost a pound or so. He's such a good dog!