The guest room is painted and all of the base moulding, quarter round and window trim has been put up. We even got up some new blinds. The guest room is looking so amazing. I'm thinking next weekend we'll begin designing/ building a new closet in there. Once we've got that completed we'll be moving into that room while we go to town on our current room. The upstairs will be complete once that done. How crazy is that??? We wern't even planning on doing this room for awhile and it just sort of happened. I gutted it by myself one day and it's just been a slow progression since then. I'm so happy that I'll have a nice comfortable upstairs soon.
I also bought some nice organizational stuff for the office.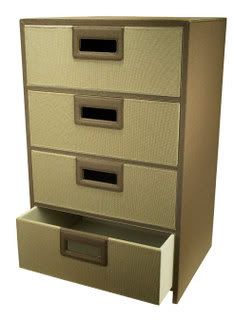 The brown and sage-ish beige color really flow with the blue gray walls and the brown accent chairs I got. Now I finally have storage for all of my office stuff and it's no longer all exposed or in boxes. All I really have left to get for the office is some art for the walls and then it will be complete.
I took photos of the guest room for all of you but I totally forgot to grab my camera. I will have some photos for you tomorrow.