It's been about a month- but I finally have some news about progress. I finally began priming and painting the bathroom. This is currently the only bathroom we have in the house. It's pretty spacious but everything is crammed into one area- the toilet sink and tub. I primed all of the woodwork in the bathroom. Typically I wouldn't paint woodwork, but it's got a late 70s feel to it. It's nice wood but will look even nicer with a medium bright white gloss.
I didn't get photos in time but I'm sure most of you who've been to our home remember the lovely purple bathroom. I'm happy to say that the color has been primed. This weekend we're painting the bathroom a fresh spring green. We are also putting in a new mirror and some polished nickel lighting. It seems polished nickel is becoming more popular. People must be getting tired of seeing brushed nickel everywhere. Whatever happend to brass? Oh yeah- that's right, brass sucks.
We are also doing more yard work this weekend and I can't wait. Here are some photos of the bathroom under construction.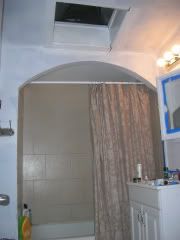 sky light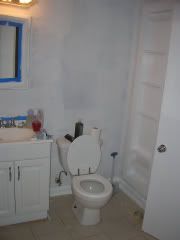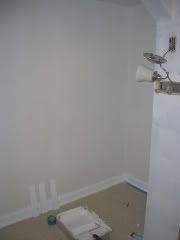 This is about half of the open space we have under the other arch... Oooh the possibilities