One final weekend of dust from sanding! We have completed all of the woodwork on the first floor. This has been bugging me since we bought the house 2 years ago. It's the messiest project, not to mention the dust makes us sick, but we're all done! We just have reassemble the baseboards and stain them as well as the doorway.
Here is the stain and first coat of poly on the last of the windows: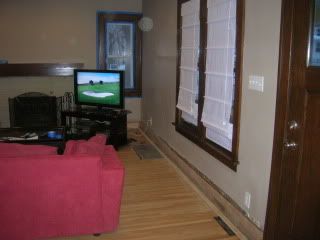 As you can see we still have some work left to do. The last dusty project is to refinish the floors. Hopefully they will be done within the next month or two.