Minneapolis has been rainy and cold the past few days. However, it really screwed up my staining last weekend. Let me rephrase that- I screwed up the staining last weekend. So I don't know if I posted about this yet, but I decided to sand the last unrefinished baseboard in the dining room, the archway leading into it, the fireplace and the window next to it. Yeah- quite a bit of work but I am definitely a pro at this point, not to toot my own horn or anything (toot).
I stained all of the woodwork and it typically needs to dry about 6-8 hours in good drying condition and 24 hours in cold or damp weather. I had a few drinks with some friends last night, came home at 10:00pm and decided to put the first coat of poly on before bed. It's not horrible but in some places alot of the stain came off and it's streaky. Shit. Now I have to resand those areas. I am so bummed. No more working after drinking! Here are some before pictures of the sanded area.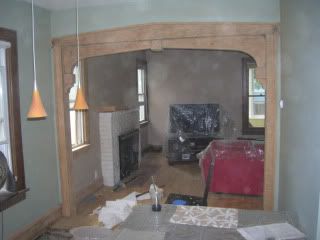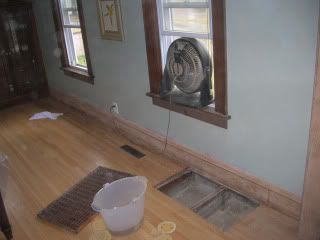 I'll put up some after pictures once my mistake and the poly is complete.
Check out how great our landscape is looking: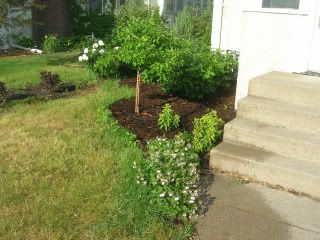 Since the weather was so bad this weekend Quentin installed a garbage disposal rather than working on the fence. However the majority of the fence is framed. We're getting there! We also have a new foster dog. His name is Simon and he is so cute. He follows me everywhere and always wants to sleep on me. He's sooo cute. Here is a photo of him with Tito and Roscoe when we we're having nice weather last week.