This weekend we will be pressure washing our house. Luckily my brother inlaw has a machine he is going to let us borrow. On Monday we are going to have a contractor begin stucco patching and repair. The stucco has come off near all of our down spouts on the gutters. They also took out 2 windows at some point, one of in the bathroom shower (thank god) the other in the kitchen above the stove. There isn't much wall space in the kitchen so I see the need for the window to be gone- however there isn't much light. It's really a toss up. They are going to come over and put the texture back up to make our house look good again. Then we will paint this fall. Here are the problem areas: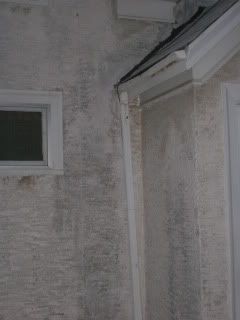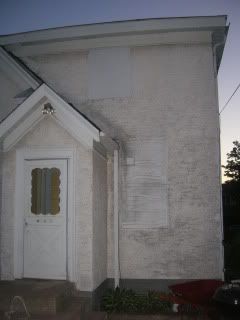 As you can tell we need new gutters too. I doubt gutters will be a huge expense but I guess you never know. We are painting the house a medium taupe and all the trim will be white. I am so excited. Our curb appeal will sky rocket once this is complete.
As promised, here is a close up of our required 40% open fence:
And finally, we are going to have a BBQ on Saturday July 11th, friends, neighbors and fellow bloggers in Minneapolis are welcome. If you would like directions and time please email me at
ssetzer@athomeapartments.com
We'd love to meet you!