Finally!!! That took up about the last 2 months of my life. But they are done and they look amazing. Just 3 more coats of poly on a few of the stairs. In case you forgot what the stairs looked like before we began here is a refresher.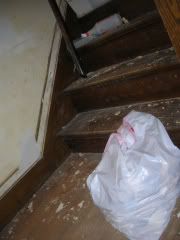 Why on earth would we ever refinish such beauty, right?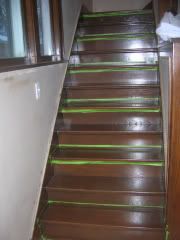 View from the top
View from the landing
Just a few more coats of poly and they are complete. We decided to stain them a little darker just because the stairs had so many imperfections from all of the staples/scratches. I think they look pretty darn amazing!