Last weekend we got quite a bit done on our front sun porch. We finished sanding the front door. We stained it pretty dark (ebony). We wanted it darker than our interior stain so that the front door really sticks out, on the exterior. We also sanded, and decided to just paint, the door frame and the window frame. It looks really good. All of the paint stripping really paid off. Although it was pretty tedious and time consuming. We still have alot of paint stripping to do around the windows and of course the bead board ceiling, which I will be staining- not painting. That should be a blast.
I didn't get a chance to take these until last night so they are a little dark. What do you think?
Otherwise we rehung pictures in the dining room and it made a huge difference. I got a really cool plant that fills some space in there too. Now I just need to get a center peice for the dining room table and some window treatments and blinds and we're all set.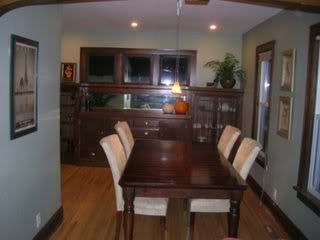 I can't wait for Christmas. I can wait for the cold though.