We didn't really have too much time for any projects this weekend. We went up to the cabin this weekend to take out the dock. All weekend I have been dreaming about these great dining room chairs that I saw last week. After going to check them out again we realized that the chairs I liked might be better accent chairs. The previous chairs we had were your basic Ikea chair- completely uncomfortable. We went to Odds and Ends and found these slingback chairs for $79/ chair- that's a steal. I'm not 109% sure of them- just like everything else that I paint or buy. I just really wish that I was 100% sure of them.
What do you guys think?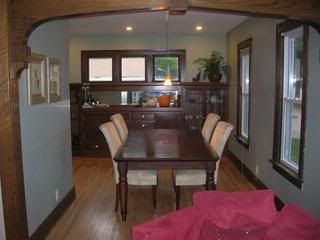 Here is the view where I think they just look really big- Almost like mad hatter chairs. Am I crazy? I might be obsessing a bit.