So you know how I was painting the front sun porch and I didn't like the color? Well, I changed it. I really like the new color. It's called quiet terrace and I thought that was fitting. It's not as neutral as I usually go but looks good.
So here is what happened. I bought some semi gloss paint to start doing the trim. Well, the paint was all cracked and the fresh coat of paint looked a little less than fresh. I was reading Ranty's blog (my real estate agent for life) and she had been doing some work with a heat gun. Well I got inspired and took on another huge project. I am stripping all of the woodwork of paint in the front porch.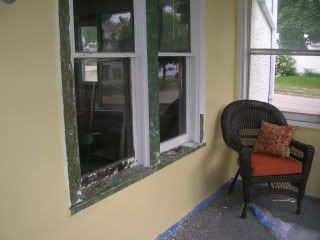 I guess you really can't see too much of a difference in the paint- but I notice it.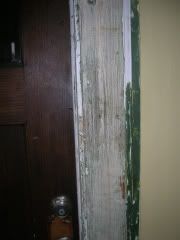 I'm almost debating not sanding and staining the wood because this rustic look is kind of cool. Although I like a clean crisp look so I'm sure it'll be stained and sanded.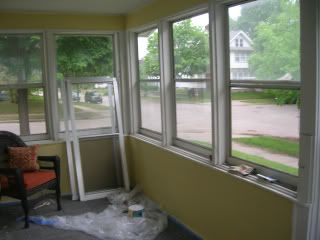 There are alot more windows to do... Plus I also began stripping the bead board ceiling... Yeah, you heard right. I am taking on the task of stripping th ceiling and returning it to it's natural beauty. This is going to be an on-going project but it's going to look SOOOOO GOOD. Everything has to be done right.