We had a very successful housewarming last weekend. Friends and family finally got to come over and see our new place and the progress we've made on it. It was so nice to have the place full of people we love. The house has definately been "warmed". We couldn't have done it without our mothers. They made all of the food for the party and many many thenks go out to both of them.
So here are some photos of the party and the almost finished product. The finishing touches of the living room and Dining room will take place this coming weekend and then onto the next project.
What do you think I should put above the fire place? I need some suggestions. I have this large mirror in the living room and don't want mirrors on every wall. Is anyone aware of any new trends for decoration above the mantle or know of anything that might go good with what I have? I'm sort of lost.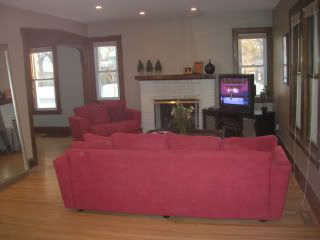 No, that's not a doll on my couch. It's my nephew, Luke.